Read recent review in The International Journal of Erotica (London)
BILINGUAL PUSHKIN's SECRET JOURNAL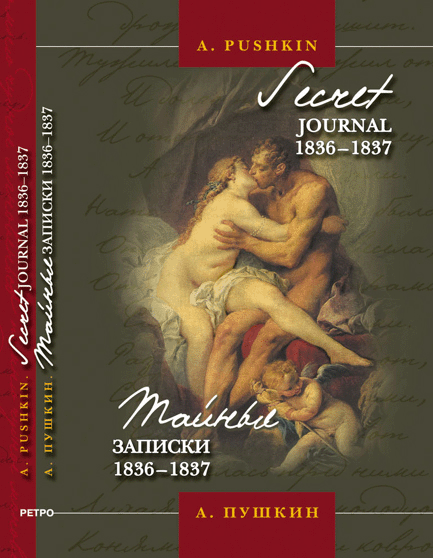 This is the first bilingual English-Russian edition of The Secret Journal.
It is intended not only for scholars of Russian language and literature, but also for English-speakers studying Russian, as well as Russian-speakers studying English. In the Russian text stressed syllables are indicated to facilitate reading.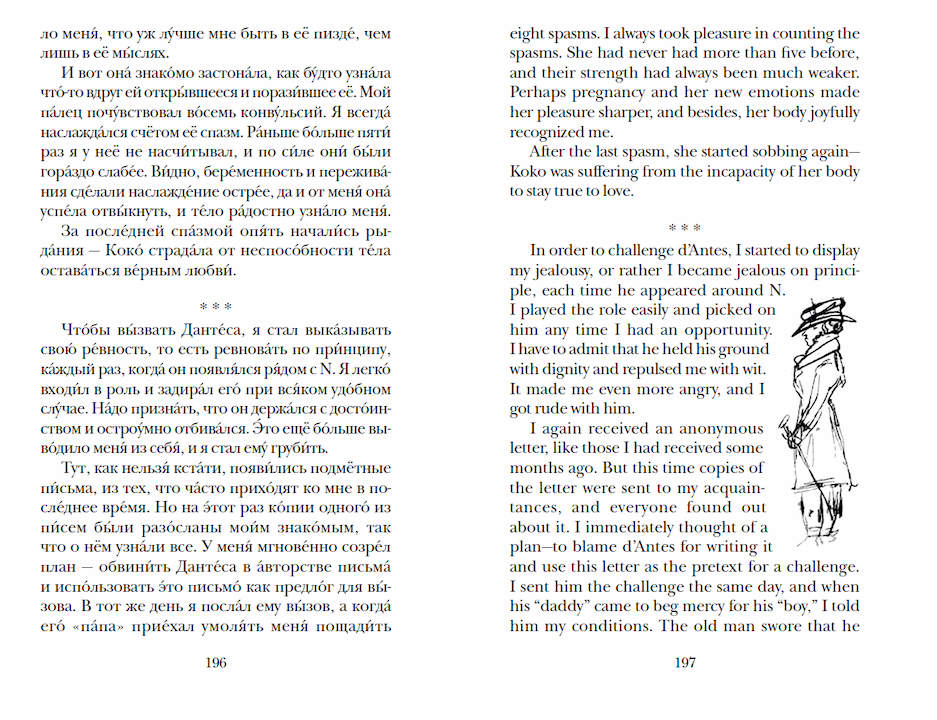 The hero of the work, Alexander Pushkin, presents in an encapsulated form his various sexual relations, his complex thoughts on life, the nature of sin, love, and creativity, as well as the complicated path that led him to his tragic end.
The Secret Journal has incited and continues to incite the most contradictory responses.
Now translated into 24 languages, The Secret Journal deserves to be placed among the most scandalous works of Russian erotic literature.
This edition is in celebration of the twentieth anniversary of the first publication of the Secret Journal in 1986.

A. S. Pushkin Secret Journal 1836-1837 / Tainiye Zapiski, 1836-1837 A. S. Pushkina:
Bilingual Edition, English-Russian (Hardcover): Retro Publishing, MA, 2006; 384 p.
USA - ISBN 0-9773864-0-6; $48.99
Russia - ISBN 5-94855-042-7
---
Read TRANSLATION OF THE PREFACE BY OLGA VOZDVIZHENSKAYA
---


The Secret Journal has been published in:

Russian, 1986, seventh printing, M.I.P. Company, Minneapolis, ISBN 0-916201-02-3
2001, Ladomir, Moscow, ISBN 5-86218-380-9
2004, RETRO, St. Petersburg, ISBN 5-94855-026-5
2005, RETRO, St. Petersburg, ISBN 5-94855-035-4
2006, bilingual Russsian-English edition RETRO, St. Petersburg, ISBN 0-9773864-0-6

English, 1986, 2011 M.I.P. Company, Minneapolis, ISBN 978-0-916201-28-9; excerpts published in Penthouse Forum, February, 1991, New York.

Italian, 1991, Lucarini Editore, Roma, ISBN 88-7033-513-5; excerpts published in L'Espresso, No. 43, 1991, Rome.

German, 1992, Eichborn Verlag, Frankfurt, ISBN 3-8218-0358-4; excerpts published in Penthouse, September, 1992, Munich.

French, 1994, Edition Les Belles Lettres (Sortiliges Edition), Paris, ISBN 2-251-49103-1; excerpts published in Penthouse, September, 1994, Paris.

Greek, 1995, Kastaniotis Editions, Athens, ISBN 960-03-0623-0.

Dutch, 1996, Element Uitgevers, The Netherlands, ISBN 90-5689-019-0.

Icelandic, 1996, Reykholt, Iceland, ISBN 9979-836-22-9.

Spanish, 1997, EDAMEX, Mexico, ISBN 968-409-930-4.

Korean, 1997, Jakkajungsin Publishing, in Seoul, ISBN 89-7288-056-6.

Ukrainian excerpts published in Kiev, Lel Review, 1995, #5, pp. 26-30.
Latvian, 1997, Klasika, in Riga, ISBN 9984-577-25-2.
Czech, 1998, Magma Publishing, Prague, Special Cats (Special Sex0, May - October issues
2001, Prague, Concordia,Tajny zapisky z let 1836-1837; ISBN 80-85997-08-8
Portugese, 1998, Difel S.A., Portugal, ISBN 972-29-0434-5
Chinese, 1999
Taiwan, Unitas, ISBN 957-522-211-3.
Excerpts published in Unitas Literary Monthly, 1999, issue 3/173
China, Shanghai, Zhu Hai Publishing House; ISBN 7-80607-566-6
Slovenian, 2000, Zalozba Obzorja, Slovenia, ISBN 961-230-124-7
2005 ?., Delo, ISBN 961-6332-69-4

Lithuanian, 2000, A.S. Narbuto Leidykla, Lithuania, ISBN 9986-552-14-1

Albanian, 2000, Fan Noli, Tirana, Albania

Turkish, 2001,
Civiyazilari Yay Turkey, Istanbul, ISBN 975-8086-87-9
Papirus Yayin, Turkey, Istanbul, ISBN 975-6999-86-1
Serbian, 2002, Zepter, Yugoslavia, Belgrade, ISBN 86-74-94-027-7

Bulgarian, 2002, KIBEA, Sofia. ISBN 954-474-312-X
Hungarian, 2003, Toth Konyvkereskedes es Kiado Kft., Debrecen. ISBN 963596054-9
Romanian
Hustler Magazine, May 2001 - Septemer, 2003, Bucharest.
2006, All Group Publishers, Bucharest. Insemnarile de taina ale lui A. S. Puskin; ISBN 973-724-023-5

---